Vehicle groups in Maceió, AL, Brazil
Cars for hire in Maceió, AL, Brazil.
About

the Movida Rent a Car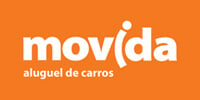 A Movida é uma locadora de automóveis brasileira que atua desde 2006. Em poucos anos, já despontou no mercado com uma qualidade excelente de atendimento e serviço, a frota mais nova do país, além de oferecer inúmeras vantagens aos clientes.
Na Movida, a quilometragem é livre, e a diária é de 27 horas. Isso significa que, no dia da devolução, você tem 3 horas de cortesia. Na hora de escolher o carro, as opções são inúmeras. São 20 categorias de veículos, combinando características, como conforto, potência, preço e espaço para um atendimento na medida da necessidade de cada cliente. Há, inclusive, carros adaptados para deficientes.
A frota é, além de tudo, muito bem equipada. Todos os carros da Movida têm CD player ou entrada USB para você curtir a trilha sonora da sua viagem. Adicionais como GPS e Wi-fi 4G, para até cinco aparelhos, podem ser adicionados diretamente nas reservas via Rentcars.com. Os veículos também dispõem de todos os equipamentos de segurança próprios para crianças, como cadeirinha e bebê conforto, que também podem ser contratados à parte.
Para sua comodidade, a devolução pode ser feita numa loja Movida diferente da que você retirou o carro - um serviço útil e de baixo custo que pode ser solicitado no ato da reserva. O serviço de Assistência cobre todo o território nacional, 24 horas por dia, sete dias por semana.
Se você vai viajar, a Movida tem o carro certo para você! Consulte preços e outras vantagens da locadora através do aplicativo ou site da Rentcars.com.
Car
Hire Requirements
Minimum Age

In Brazil, the minimum age required to hire a vehicle is 21.

Driving Licence

Each driver must present a full, valid and original national driving licence held for a minimum of 2 years. If your licence is not in a language used in your destination country, an International Driving Permit to accompany your national driving licence is highly recommended.

Photo ID and Passport

Each driver must present a valid and original photo ID or passport.

Credit Card

You must present a valid and personal credit card issued by a banking institution and with enough funds to be held as a security deposit. Third-party credit cards or cards not associated with banking institutions will not be accepted. The car hire company is solely responsible for approving the provided credit card. Online prepayment does not exempt the renter from providing a valid international credit card during vehicle pick-up. The hire company will place a hold on the amount of the security deposit and, when applicable, any additional local fees not covered in the prepaid voucher on the card provided at the hire location.

Booking Voucher

The renter must present a printout of the Booking Confirmation Voucher at the hire location. This document officially confirms all agreed upon services, payment conditions, rates, discounts, as well as vehicle availability within the selected group.

Important Information

Car hire companies reserve the right to refuse service to underage or unlicensed drivers, those with poor credit history or individuals otherwise considered liabilities by the hire company.
Hire Companies in Maceió, AL, Brazil
The prices shown on this page correspond to real searches performed recently by our customers. Prices include daily rates and additional hire charges. Extras such as GPS, child seats, etc, will be added to the final price at the end of the booking process. Rates and vehicle availability may change without prior notice.