Vehicles groups at Los Angeles International Airport (LAX), California, United States
Cars for rent at Los Angeles International Airport (LAX), California, United States.
About

the Hertz Rent a Car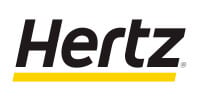 A Hertz é uma das maiores empresas de aluguel de veículos do mundo e foi fundada em 1918, nos Estados Unidos. Com uma frota superior a 170 mil veículos, está presente em mais de 160 países.
A locadora norte-americana é reconhecida pela qualidade nos serviços prestados e por seu atendimento excelente. Também fazem parte de sua história a inovação, já que ela foi a primeira a oferecer a locação de veículos a um público maior e a primeira a disponibilizar a opção de devolver o veículo em outra localidade. A Hertz possui, em alguns destinos, em sua frota carros diferenciados como o Jaguar, o híbrido Toyota Prius, o Corvette conversível e outros carros de luxo.
Além disso, você pode escolher qualquer veículo da Hertz através do nosso app ou do nosso site, Rentcars.com, e aproveitar todos os benefícios e o melhor preço. Em poucos minutos você escolhe seu carro e a melhor forma de pagamento, com rapidez e praticidade, contando com toda a experiência da Rentcars.com.
About the Los Angeles International Airport (LAX), California, United States
Los Angeles International Airport: Your Entry Into L.A.

There's no shortage of things to do in Los Angeles. Fortunately, you can get to the city's beach attractions from Los Angeles International Airport (LAX) rather quickly, depending on traffic. If you want to join the surfers, you can visit one of its famous beaches. You can also visit a museum if you would rather spend your time indoors. L.A. has something for everyone, and you can conveniently travel to any attraction with a car rental.

Making Your Way Through LAX

Los Angeles International Airport has ATMs, restaurants and duty-free shops in every terminal. You can visit an ICE Currency Exchange booth on the departure level in terminals 2-7, and you can also use a currency exchange booth in the arrival levels of terminal 2, terminal 5 and terminal 6. Once you're ready to pick up your car rental in Lot C, you can use one of the free-call phones to request a ride there, or you can get there using the airport's complimentary shuttle. The shuttle stops at each terminal about every 15 minutes.

Picking-Up Your Car Rental at LAX

When arriving at LAX, be aware that all car rental companies are not actually located inside the airport, but nearby. You don't have to worry, though, as car rental companies provide you with airport shuttles from and to LAX when you pick-up and return your rental car. Just search for the "Car Rental Shuttles" sign and wait for the shuttle of the rental company of your choice.

Driving around LA

Los Angeles is famous for its traffic during rush hour, so we suggest you plan ahead and drive around at alternative times. If you want (and can), you may also drive through carpool lanes. Carpool or High Occupancy Vehicle (HOV) lanes, available on most freeways, are located on the left with specific entrance and exit points. To drive through these lanes you must have 2 or more people inside the car, so invite a friend to share the road with you!

Things to Do Around L.A.

From Los Angeles International Airport (LAX), you're just a short drive away from some of the attractions that the city is famous for. From the airport, you're less than a 30-minute drive from the world-famous Santa Monica Pier, and you can get there even faster depending on traffic. Here, you can ride the Pacific Wheel and enjoy beautiful views of the Pacific Ocean. You can also visit the Automobile Driving Museum, less than two miles away from the airport, and check out their collection of over 130 vintage, antique and muscle cars.

Road trips from LA

Los Angeles is where great road trips can start! The most famous drives along the Pacific Highway (or CA-1) to San Francisco, one of the most famous road trips in the world. The road itself is narrow, but has beautiful views of the Pacific Ocean and many opportunities to stop along the way to make the most of it.

Another option is to go from LA to Las Vegas, where nightlife and entertainment never end! This drive is a reflexive one, with nothing but the desert surrounding you for miles on end. When you arrive in Las Vegas, though, that's where the party starts!
Car
Rental Requirements
Minimum Age

In Brazil, the minimum age required to rent a vehicle is 21.

Driver's License

Each driver must present a full, valid and original national driver's license held for minimum of 2 years. If your license is not in a language used in your destination country, an International Driver's Permit to accompany your national driver's license is highly recommended. Some rental companies and government agencies require that you present an IDP. It is the renter's responsibility to present both their IDP and Driver's License when picking up the vehicle. For more information, please reach out to the Rental Company.

ID or Passport

Each driver must present a valid and original photo ID or passport.

International Credit Card

The renter must present a personal credit card, valid in the country of pick-up with enough funds to put a hold for a security deposit. Third-party credit cards will not be accepted. The car rental company is solely responsible for approving the provided credit card. Online prepayment does not exempt the renter from providing a valid international credit card during vehicle pick-up. The rental company will place a hold in the amount of the security deposit and, when applicable, any additional local fees not covered in the prepaid voucher on the card provided at the rental location.

Prepaid Booking Voucher

You must present a printout of the Booking Confirmation Voucher at the rental location. This document officially confirms all agreed upon services, payment conditions, rates, discounts, as well as vehicle availability within the group selected.

Important Information

Car rental companies reserve the right to refuse service to underage or unlicensed drivers, those with poor credit history or individuals otherwise considered liabilities by the rental company.
Rental Companies at Los Angeles International Airport (LAX), California, United States
The prices shown in this page correspond to real searches recently performed by our customers. Prices include daily rates and additional rental charges. Extras such as GPS, child seats, etc., will be added to the final price at the end of the booking process. Rates and vehicle availability may change without prior notice.