Exclusive Advantages from York Rent a Car to you!
Check out the advantages of your car hire with York Rent a Car ! Book the best cars now, for the lowest prices and with the greatest advantages.
Unlimited mileage
No amendment fees
Coverage always included
Exclusive discounts
Pay only upon Pick-up
Car Categories
View all hire car categories available at York Rent a Car .
Volkswagen Gol, Chevrolet Onix
Economy - Group C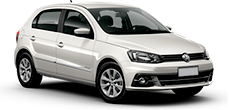 1.0

Engine:

5

Passengers:

Yes

Air Conditioning:

Power

Steering:

4

Doors:

Yes

Electric Windows:

Yes

Central Locking:

Yes

Airbags:

Yes

Anti-lock Brakes:

Manual

Gearbox:

Radio/USB

Radio:

1

Suitcase:
Chevrolet Celta
Economy - Group B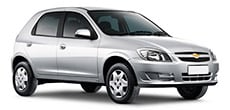 1.0

Engine:

5

Passengers:

Yes

Air Conditioning:

Power

Steering:

4

Doors:

Yes

Electric Windows:

Yes

Central Locking:

Yes

Airbags:

Yes

Anti-lock Brakes:

Manual

Gearbox:

CD Player

Radio:

1

Suitcase:
Important information on the category
Car hire companies do not guarantee a specific vehicle make, model, colour or configuration. You must choose an available vehicle from within the selected group upon signing the hire agreement. Vehicle features may vary among cars of the same group and among different hire locations. Images are meant for illustrative purposes only.
Vehicle's luggage capacity may be reduced depending on the number of passengers.
York Rent a Car Locations
Find the hire company nearest to your destination.
Optional Equipment and Services
Infant Car Seat

Seats recommended for infants under the age of one and weighing less than 9kg (20lb). Infant car seats must be installed facing backwards. These seats were designed to ensure proper support to the child's neck, back and spine.

Child Safety Seat

Reversible seat mounted on the car's back seat. Recommended for children between the ages of 1 and 5, up to 3 feet tall (1 metre) and weighing between 20lbs and 42 lbs (9 kg and 19 kg). Larger children must use booster seats which place them at the correct height to ensure proper seat belt use. Subject to height/weight limitations.

Additional Driver

Additional drivers are subject to the same terms and conditions applicable to the renter and must be physically present during the hire agreement´s signing.

GPS

The GPS navigation takes you anywhere you want. If you have ever been lost or worried about not finding your way to a new destination, just sit back and let the GPS guide the way. The GPS knows your exact location at all times and shows you the best route from point A to point B.
Car Hire Requirements
Minimum Age

In Brazil, the minimum age required to hire a vehicle is 21.

Driving Licence

Each driver must present a full, valid and original national driving licence held for a minimum of 2 years. If your licence is not in a language used in your destination country, an International Driving Permit to accompany your national driving licence is highly recommended.

Photo ID and Passport

Each driver must present a valid and original photo ID or passport.

Credit Card

You must present a valid and personal credit card issued by a banking institution and with enough funds to be held as a security deposit. Third-party credit cards or cards not associated with banking institutions will not be accepted. The car hire company is solely responsible for approving the provided credit card. Online prepayment does not exempt the renter from providing a valid international credit card during vehicle pick-up. The hire company will place a hold on the amount of the security deposit and, when applicable, any additional local fees not covered in the prepaid voucher on the card provided at the hire location.

Booking Voucher

The renter must present a printout of the Booking Confirmation Voucher at the hire location. This document officially confirms all agreed upon services, payment conditions, rates, discounts, as well as vehicle availability within the selected group.

Important Information

Car hire companies reserve the right to refuse service to underage or unlicensed drivers, those with poor credit history or individuals otherwise considered liabilities by the hire company.
Customer Reviews
Vehicle Group Rating

Comfortable interior and accessories:

Mandatory safety items:

Hygiene, cleanliness and maintenance:

Luggage/cargo capacity:

Cost-Benefit Ratio:

Hire Location Rating

Hire Locations:

Customer service:

Service downtime:

Car Hire Company Rating

Approval Rate:
Important Information

Only Rentcars.com customers who used car hire services from York Rent a Car are authorised to review this car hire company. Based on the criteria established by the Rentcars.com Review Index.

These reviews and ratings represent the subjective opinions of our customers and do not represent Rentcars.com´s opinion. Rentcars.com and all parties involved in providing review contents may not be held liable for any damages arising from the use of such reviews.